Point Performance Therapy Services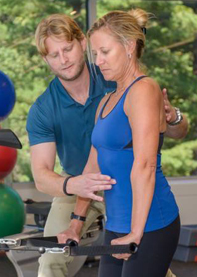 About Point Performance Therapy
Point Performance Physical Therapy is led by Dr. Haim S. Hechtman, DPT. In conjunction with Point Performance Medicine, Dr. Hechtman and his team make up a comprehensive physical medicine, physical therapy and rehabilitation center that is unique in the Bethesda/ DC region. The Point Performance Therapy team is dedicated to the treatment of physical impairments and disabilities. The team also promotes movement, strength, stability and quality of life through assessment and therapy as well as through patient education, empowerment and prevention.
Point Performance Therapy Services
The Functional Movement Screen is a physical therapy assessment tool used to observe human movement. It allows your therapist to assess where your body is strongest and weakest. The screening process is comprised of a series of functional exercises similar to those done in a gym setting. The exercises focus on stability, mobility and asymmetry, to gauge your current physical status. These findings guide your therapist in strengthening the weakest links in order to take your physical function to the next level. The findings can also be useful in preventing injuries such as an ACL or rotator cuff tear.
Orthopedic Physical Therapy deals with the musculoskeletal system. Most injuries that we treat have some sort of orthopedic component to them including bones, nerves, tendons, muscles, joints and ligaments. Orthopedic therapy will include some manual and sports components in addition to specific exercises to achieve your goals.
Manual Therapy is a hands-on approach that includes soft tissue mobilization, joint mobilization, manual stretching techniques, manual strengthening, neuromuscular reeducation and muscle energy techniques. Each of our therapists has strong manual skills.
Postural Restoration is a form of treatment based on the identification of polyarticular chains (multiple joints) of muscular imbalances that influence human movement. Your therapist will do a biomechanical evaluation to assess faulty movement patterns and address these findings with a comprehensive program to promote optimal symmetry throughout your body. Postural Restoration focuses on an individualized program to address faulty patterns, sided dominance and kinematic chains that will affect movement, posture and performance.
Trigger Point Dry Needling is an effective technique used to treat muscular pain and spasm in local and regional areas of the neck, back and extremities. These are relatively simple and safe procedures that can be particularly effective when used in conjunction with other modalities and physical therapy.
Sports Physical Therapy focuses on five major areas. Your therapist will do a biomechanical evaluation to establish a treatment protocol utilizing various rehabilitation techniques. With many of our patients, initial intervention will focus on injury rehabilitation, followed by a sport specific prevention program.
Sports Performance Training Haim Hechtman and the Point Performance Therapy staff are known for their sports performance specialty training, which helps athletes—including elite and professional-level competitors—move to new levels of optimal performance.