Point Performance Physical Medicine Services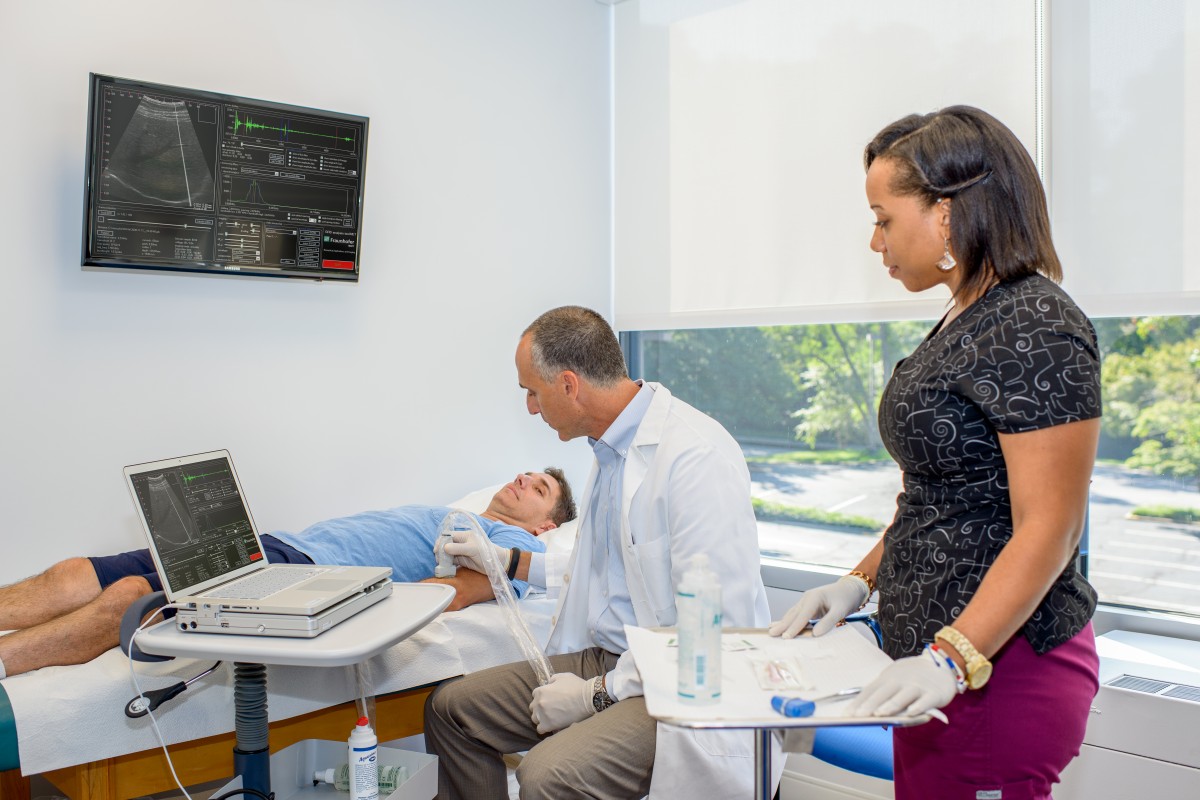 Point Performance Physical Medicine is led by physiatrist Dr. Mark D. Klaiman, MD, one of Washingtonian magazine's "Top Docs" for more than a decade. Dr. Klaiman specializes in the diagnosis and comprehensive non-surgical management of sports injuries, soft tissue disorders, acute and chronic spinal pain, and arthritic pain. He is recognized for his skill in integrating a range of medical and alternative modalities, including medical acupuncture and soft tissue injections, to help patients achieve optimal physical functional and performance.
Diagnosis and Assessment
Comprehensive Musculoskeletal Assessments. Establishing the most accurate musculoskeletal diagnosis is paramount to a successful outcome. This begins with a detailed and thorough history and clinical examination. Our medical and therapy teams are experts in musculoskeletal evaluations, dedicating the time required to fully appreciate the nature of the injury, contributing factors, and the impact of the injury on function and performance.
Imaging Studies. X-ray, CT and MRI scanning may be ordered by Dr. Klaiman to gather additional information about your condition.
Musculoskeletal Diagnostic Ultrasound. Musculoskeletal ultrasound is an exciting and evolving technology used to evaluate and diagnose tendon, ligament, and other soft tissue injuries. It is a safe tool that provides live and immediate assessment of musculoskeletal structures. Watch this video to learn more about the use of ultrasound at Point Performance.
Diagnostic Spinal Procedures. Spine injections performed under fluoroscopic guidance may be recommended to assist in the accurate diagnosis of spinal conditions. Precisely localized anesthetic injections can help to confirm the source of pain when the diagnosis remains uncertain or patients have not responded as predicted to treatment.
Nerve Conduction and EMG Testing. Electrodiagnostic medicine is the study of nerve and muscle diseases. To determine whether your nerves and muscles are working properly, your doctor may refer you for this specialized testing, generally performed by physicians in neurology and physical medicine and rehabilitation. The examination typically includes a Nerve Conduction Study (NCS) and a Needle Electromyography (EMG) test. The results of the electrical examination will help your doctor diagnose your condition and determine the best course of treatment. READ MORE ABOUT NERVE CONDUCTION AND EMG TESTING AT POINT PERFORMANCE. 
Physical Medicine Procedures For Joints
Cortisone injections. These may be used to reduce joint pain and inflammation, thereby facilitating other rehabilitative efforts.
Viscosupplementation therapy is an FDA-approved injection procedure for the treatment of osteoarthritis with hyaluronic acid as the active ingredient. The treatment is designed to lubricate the joint, reduce inflammation, and stimulate cartilage, producing cells in the lining of the joint.
PRP or platelet rich plasma injections. This is a cutting edge approach for the treatment of soft tissue and joint inflammation. It is a safe, in office procedure that involves a simple blood draw and reinjection of isolated blood products into a joint or region of injury. Platelets have been shown to possess growth factors and anti-inflammatory proteins that collectively serve to reduce pain and inflammation, and stimulate repair and regeneration of tissues. READ MORE ABOUT PRP INJECTIONS AT POINT PERFORMANCE.
Lumbar Radiofrequency Ablation (RFA) for lower back pain. Lumbar facet joints are named for the vertebrae they connect and the side of the spine where they are found. Lumbar facet joint pain can occur in an area from your low back down to your buttocks, groin, and hips.
RFA uses radiofrequency energy to disrupt nerve function. When this is done to a lumbar medial branch nerve, the nerve can no longer transmit pain from an injured facet joint. READ MORE ABOUT LUMBAR RADIOFREQUENCY ABLATION AT POINT PERFORMANCE. 
For Soft Tissue, Spine and Other Chronic Pain
Cortisone injections. Used for the treatment of tendon, ligament, and other soft tissue inflammatory conditions to reduce pain and inflammation.
Spinal Injections are X-ray guided spinal procedures for the management of pain related to spinal arthritis, sciatica, and lumbar stenosis. There is a range of injection types including epidural, selective nerve root, facet and sacroiliac joint injections.
Neurotoxin Injections. Botox injections are provided for the FDA approved management of migraine, cervical dystonia and spasticity. Botox has also been observed for the treatment of chronic muscular neck and lower back pain. READ MORE ABOUT NEUROTOXIN (BOTOX) INJECTIONS AT POINT PERFORMANCE.
Sacroiliac Joint Injection for Low Back & Buttock Pain. In a sacroiliac joint injection, a local anesthetic and corticosteroid are injected into one or both of your sacroiliac joints, or into the ligaments surrounding the joints. The local anesthetic, a numbing medicine, lessens your pain temporarily. The corticosteroid reduces inflammation that may be causing pain.
The injection can be used for diagnosis and treatment. If the injection immediately lessens your pain and helps you move better, it tells the doctor that the sacroiliac joint is causing the pain. READ MORE ABOUT SACROILIAC JOINT INJECTIONS AT POINT PERFORMANCE.
Lumbar epidural steroid injection for lower back and leg pain. The lumbar area of the spine has five bones, called vertebrae. Soft discs between the vertebrae act as cushions, offering support and controlling motion. If a disc tears, chemicals inside may leak out, causing inflammation of nerve roots or the dura, and pain. During this procedure, a corticosteroid (anti-inflammatory medicine) is injected into the epidural space to reduce inflammation and pain. READ MORE ABOUT LUMBAR EPIDURAL STEROID INJECTIONS AT POINT PERFORMANCE.
Medical Acupuncture. Medical acupuncture is a method of encouraging the body to promote natural healing and improve functioning. Acupuncture needles are inserted and heat or electrical stimulation is applied at very precise acupuncture points. Dr. Klaiman is registered as a medical acupuncturist in Maryland and Washington DC. READ MORE ABOUT MEDICAL ACUPUNCTURE AT POINT PERFORMANCE.