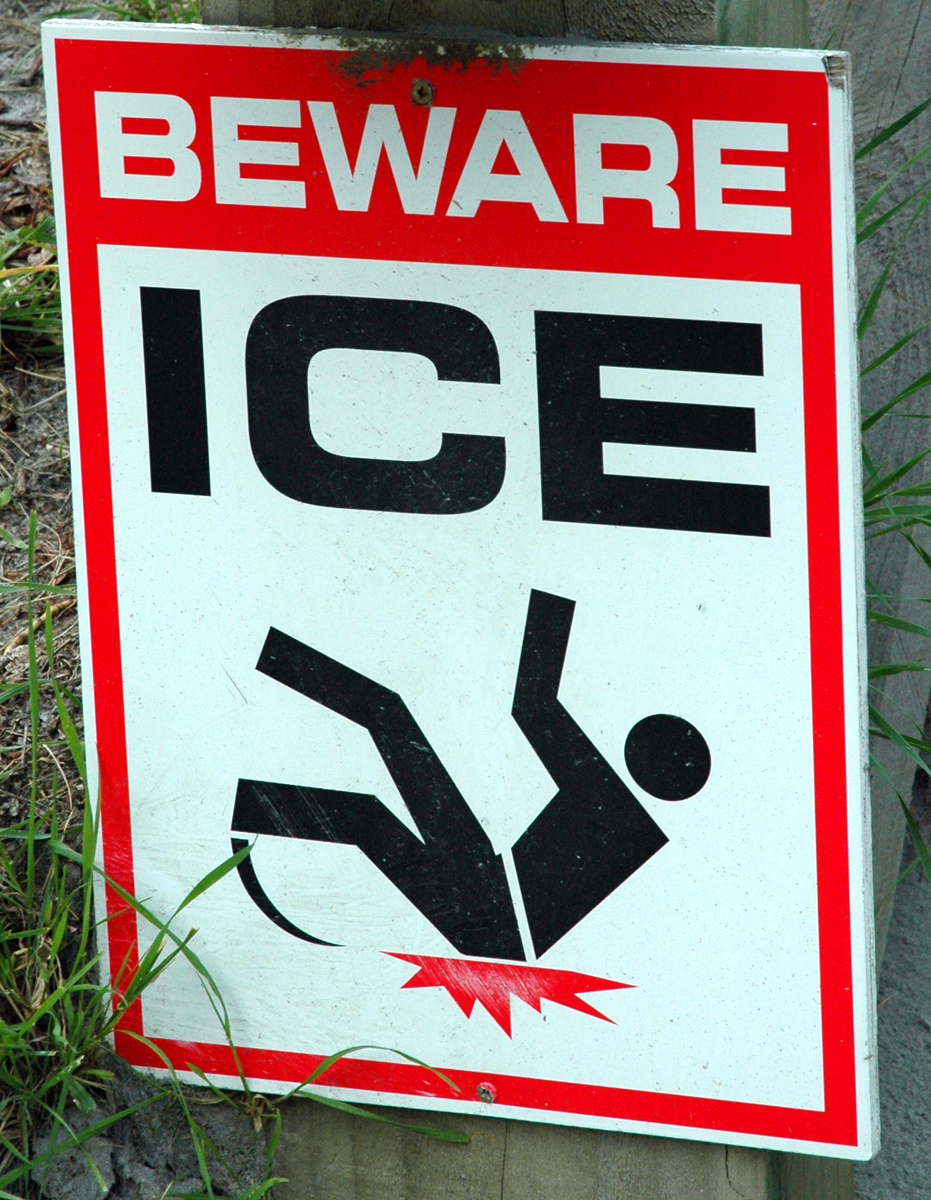 Falls account for 2.8 million hospitalizations nationwide annually, with 1/4 of adults 65 and older falling each year. Wintertime sees a good deal of falls among all ages due to ice and snow. It can be scary to walk outside, even just five steps to the car, without risking a slip on ice. However, there are a lot of ways to prevent a fall.
Clear your walkway of ice and snow. Sprinkle sand or gravel on stairs and paths, especially on the sidewalk where the public traverses. Similarly, clear your roof where snow or water gathers and drips below to your walkway, which can freeze. Keep a bucket of sand within reach of your front door so you can spread some as you walk, if no one else is around to help.
Wear tractions on your shoes. Products such as Ice trekkers* or Yak Trax* stretch around the bottom of your shoes and provide grip, like crampons, on the ice and snow. These are the safest bet to preventing a fall. Make sure to remove the products before driving or walking on regular surfaces, such as indoors. However, be aware that indoor floors may be slippery from being wet, so exercise caution.
Shift your center of gravity forward, over your front foot, as you walk. Typically, we split our center of gravity between both legs, but when there's ice, move it forward. Take smaller, slower steps; bend your knees slightly; and extend your arms out for balance. Wear gloves, in case you do fall and have to break your fall.
Wear wristguards, if you're concerned about breaking your wrist if you do fall. The kind for roller skating or snowboarding will protect them.
Take a footpath or grassy side instead of an icy sidewalk. The ice is usually broken up and provides better traction than a sidewalk. Be aware of any roots or rocks that may jut up.
Avoid crossing the street, where cars may also slip on ice and lose control. If you must, make sure to wear visibly bright clothing and reflectors.
Lastly, make sure your own vision is not impaired by foggy glasses or hats covering your eyes.
*Point Performance does not officially endorse any of these products. They are mere suggestions.