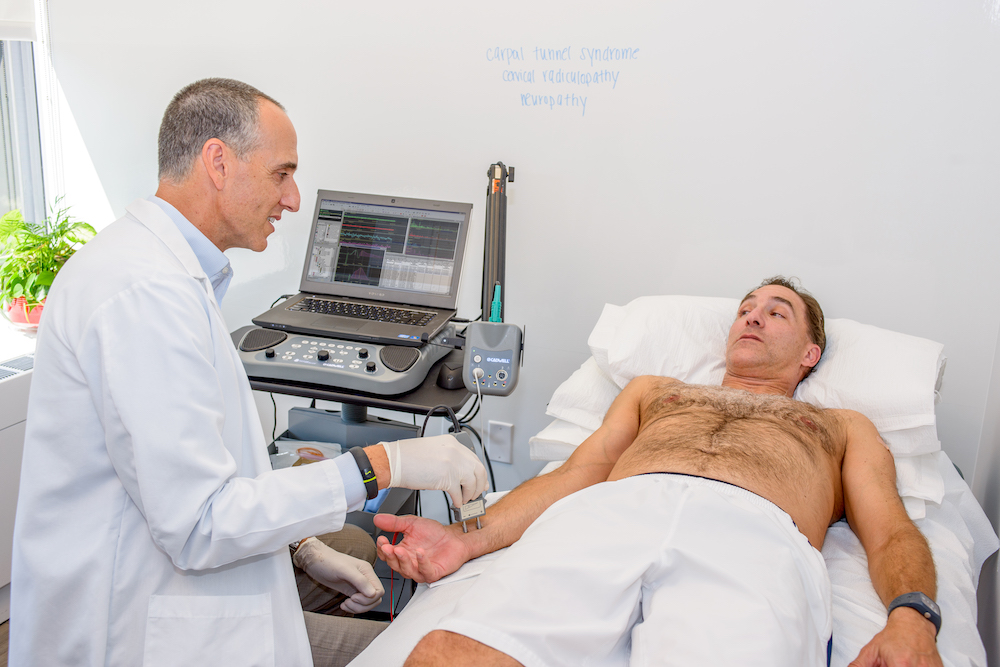 by Dr. Mark Klaiman, MD
Aching backs, twisted ankles, sore knees, aggravated arthritis. Perhaps from too much yardwork, or weekend warrior activity, or just general aches and pains of aging.
There's always a temptation to tough it out and see if things improve. That might work with the weather, but battered bodies need more intervention. Physiatry (pronounced fi-zahy–uh-tree) – is a branch of medicine dedicated to treating ache and pains, injuries, and disease through a comprehensive, non-surgical approach.
What does this mean to you as a patient?
Comprehensive. Other medical disciplines specialize in one part of the body or specific methods of treatment: Podiatrist for your feet, ophthalmologist for your eyes. Physiatrists, sometimes also called rehabilitation physicians, focus on the entire range of injury and illness, often solving problems that other medical professionals cannot. As experts in the evaluation and treatment of musculoskeletal conditions, we look at your medical history, current issues, and entire body to figure out what's wrong, listening carefully and spending the necessary time to make sure we get it right.
Physiatrists are focused on the impact that your condition has on your life. We strive to not only solve the current issue but to help you achieve your optimal level of function. We use a variety of conventional and state-of-the-art diagnostic tools including x-rays, CT and MRI scanning, musculoskeletal ultrasound, and electrical studies to diagnose nerve and muscle disorders to precisely locate the source of the problem and confirm diagnoses. Because pain issues can be complicated and interconnected, and may be a symptom of a larger underlying issue, we emphasize spending extra time with our patients from the start in order to gain the whole picture.
The benefits of a non-surgical approach. You avoid the obvious negatives associated with surgery – costs, a potential hospital stay, extensive rehabilitation. Instead, you gain a detailed customized treatment plan, involving one or more avenues of care. This multidisciplinary approach could include physical therapy, soft tissue injections, acupuncture, massage, nutritional counselling, psychological treatment, exercise training, occupational therapy, or any combination of these approaches.
Throughout the course of therapy, your physiatrist will be the quarterback of care, maintaining the necessary communication with other professionals, including your primary care physician, to ensure the optimal outcome. We oversee the implementation of each patient's treatment plan—whether by treating patients through a team of medical professionals based in our practice or by helping patients to carry plans out themselves. Either way, we work with you on an ongoing basis to track progress.
I have been practicing as a physiatrist for more than 20 years. From a doctor's point of view, this has been an especially rewarding way to help people feel better and function at their optimal level. The comprehensive approach gives me time to get to know my patients, and there are huge benefits to providing non-surgical options to improve my patients' health. It's been great to offer the benefits of physiatry to help make aches and pains a thing of the past.