Chronic Pain Treatments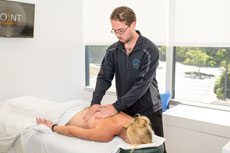 Chronic pain syndromes are a leading cause of disability and health care expenditure in the United States.
The Point Performance team here in Bethesda, Maryland are experts in the assessment and management of musculoskeletal pain. Dr. Klaiman, Dr. Hechtman and the team recognize the importance of engaging their patients as active participants in the evaluation and care process. We take the time necessary to best understand the complexity of an individual's chronic pain, and the associated impact on functional performance, with the goal of establishing the most accurate diagnosis possible. Point Performance takes pride in the value of the physical examination and the wealth of information that can be gleaned from communicating and examining our patients.
At Point Performance, we offer a comprehensive array of services for patients suffering from chronic pain. We manage the following:
Disorders of the spine (neck and back pain)
Arthritis
Headache and migraine
Neuropathic pain
Fibromyalgia
Muscular pain syndromes
And more
Treatment plans will be physician supervised and customized, taking into account our patient's philosophical approach to health and wellness. Our success is in our ability to maximize pain control and improve functional outcomes through coordinated care.