Chronic Pain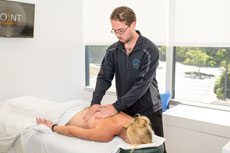 Chronic pain syndromes are a leading cause of disability and health care expenditure in the United States. Disorders of the spine (neck and back pain), arthritis, headache and migraine, neuropathic pain, fibromyalgia and muscular pain syndromes constitute the majority of conditions among chronic pain sufferers. The diagnoses are varied, often inter-related, and frequently convoluted. Additionally, mental health conditions, often secondary to the challenges of living with chronic pain, are commonly under recognized, and further complicate the diagnosis and successful management.
Unfortunately, patients with chronic pain often find themselves bouncing among health care providers of varying disciplines, with little attention to coordinated care. The impact can be devastating, resulting in worsening of a patient's pain and depression, overutilization of health care dollars, and under controlled prescription of medications. The recognition and appropriate treatment of medication side effects, in and of itself, is also an area poorly addressed in the current system of care.
As experts in the assessment and management of musculoskeletal pain, Dr. Klaiman and the Point Performance team recognize the importance of engaging their patient's as active participants in the evaluation and care process. We take the time necessary to best understand the complexity of an individual's chronic pain, and the associated impact on functional performance, with the goal of establishing the most accurate diagnosis possible. In an age where clinicians have become overly dependent on the use of diagnostic testing and procedures, we take pride in the value of the physical examination and the wealth of information that can be gleaned from communicating and examining our patients.
At Point Performance, we offer a comprehensive array of services for patients suffering from chronic pain. Treatment plans will be physician supervised and customized, taking into account our patient's philosophical approach to health and wellness. Whether it's medication management, interventional spinal procedures, therapeutic injections, techniques in regenerative medicine, physical therapy, acupuncture, massage, or personal training, our success is in our ability to maximize pain control and improve functional outcomes through coordinated care. We also recognize that we cannot be everything to every patient and it is often important to reach out to our community colleagues for assistance. In doing so, we maintain our pledge to remain fully engaged in our patient's care.